COMING SATURDAY, OCTOBER 13, 2018:
7th ANNUAL INTERNATIONAL AFRICA *MAAFA CONFERENCE
UW PRESIDENT NICHOLS TO SPEAK AT INTERNATIONAL CONFERENCE AT LCCC                       
University of Wyoming President, Dr. Laurie Nichols is set to speak at the International Africa *MAAFA Conference, at Laramie County Community College in Cheyenne, Wy.
Nichols, an internationally acclaimed scholar, educator and author will be speaking at 9:00 a.m., October 13 in the Union Pacific Room at the Center for Conferences and Institutes. She will address the University of Wyoming interacting on global education and world technology.
Accompanying her will be the University of Wyoming Collegiate Chorale, also several international student's associations from University of Wyoming, WASA and Colorado State University, Africans United, Fort Collins, CO. will perform traditional dances and songs of the Africa *MAAFA.
Seating and continental breakfast will begin at 8:30 a.m. with conference to start at 9:05 a.m. The entire event is free, but donations will be accepted.
*MAAFA is a Kiswahili term meaning (the scattering) as defined by Marimba Ani in her book, YURUGU: an Afrikan-centered critique of European cultural thought and behavior.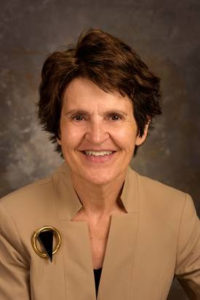 President Nichols was born and raised in South Dakota. A first-generation college graduate, she received a bachelor's degree in education from South Dakota State University in 1978 and later pursued to earn a master's degree in vocational and adult education from Colorado State University in 1984 and a Ph.D. in family and consumer sciences education from Ohio State University in 1988.
Dr. Nichols began her career in higher education as a member of the faculty of the University of Idaho from 1988 to 1994, and later became Dean of the SDSU College of Education and Human Sciences from 1994 to 2008. From August 2008 through June 2009, she served as interim president of Northern State University in Aberdeen, South Dakota, and then returned to SDSU to become Provost and Executive Vice President for Academic Affairs from 2009 to 2016. While in that role, she guided the university through two years of budget reductions and provided leadership in developing new five-year strategic plans, among other accomplishments.
On May 16, 2016, Dr. Nichols became the 26th President of the University of Wyoming, and the first woman to hold this post.  Despite assuming the Presidency in the midst of significant budget reductions, President Nichols effectively embraced her new role, encouraging a collaborative approach to budget reductions while keeping the university's core missions at the forefront.  Further, she galvanized campus support to embrace change and began developing a comprehensive strategic plan to guide the university for the next five years.
Nichols is passionate about working with young people in solidifying educational and career goals and developing leadership skills. For a more complete and extensive curriculum vitae, go to: http://www.uwyo.edu/president/nichols/index..html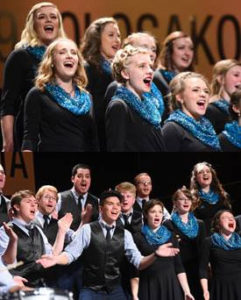 The UW Collegiate Chorale is the flagship ensemble at the university level and has garnered a reputation for creative programming.  The annual "Collegiate Chorale by Candlelight" is beloved by the community and state alike and provides an intimate atmosphere for a meaningful and exciting choral experience.
The ensemble carries a tradition of excellence in choral performances at the Department of Music.  Collegiate Chorale is designed to provide the advanced and committed university singer with outstanding performing experiences ranging from the major choral masterworks to the masterpieces of the a cappella tradition, both sacred and secular.  In addition, the ensemble acts as a professional training ensemble in which each student explores a variety of vocal techniques in relation to the choral literature.
The UW Collegiate Chorale was invited to perform at the 2017 and 2011 NW National Association for Music Education (NAfME) conferences as well as the 2011 National Collegiate Choral Organization (NCCO) national conference. The UW Collegiate Chorale was the only choir invited from the US to compete in the 2017 Tolosa Choral Contest in Spain.  Moreover, the ensemble has earned a reputation for exciting premieres of works by composers such as Craig Hella Johnson, Jennifer Higdon, Forrest Pierce, Eric Sawyer, John Muehleisen, and Libby Larsen.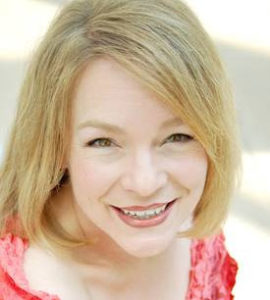 Dr. Nicole Lamartine, DMA, became Director of Choral Activities at the University of Wyoming in 2008. She conducts the Collegiate Chorale, Singing Statesmen, advises the male a cappella Happy Jacks, and teaches conducting and applied voice.
She is committed to providing a rich and multicultural repertoire to students and audiences alike.
"Dr. La" is in demand as a conductor and clinician across the US, China, and Europe.  Recent conducting engagements include All-State Choirs in Oregon, Montana, Washington, Alaska, Wyoming, and Minnesota, the 2014 NW ACDA Men's Honor Choir, the DoDDS All-Europe Honor Choir in Wiesbaden, Germany, the Association for Music in International Schools Men's Honor Choir in Abu Dhabi, and the International Festival Choir in Muscat, Oman.
To view the complete *MAAFA 2018 conference program after July 15, 2018, go to:  http://www.SankofaAfricaWorld.org
Greetings, Community Members and Friends,
FINAL FILM EXPO UPDATE! Sankofa-serving the community with diversity education.
The Board Chairman, and Committee Members are basking with appreciation and enthusiasm due to the overwhelming community response to the African American Black Film Exposition, scheduled for Wednesday, February 14,16, and 17.
Sankofa African Heritage Awareness, Inc. wishes to acknowledge and thank the diverse and cosmopolitan Cheyenne community, and anticipates verbally expressing our utmost gratitude at the Exposition.
However, we would be remiss if we fail to recognize some key players in this event:
History-Public Relations-Printing and Graphics Departments at Laramie County Community College; Brian Tyrrell Chevrolet; Visit Cheyenne; Wyoming Tribune Eagle; Trader's; WKGN TV, Morning Show; NAACP Cheyenne Chapter, 4108; Public Access Channels, 19 & 11; PBS Radio Network; WyomingNETWORK.com; Executive Office of Laramie County Public Library; Allen Chapel African Methodist Episcopal Church, and to all other donors and sponsors, large and small, who will be listed for the MAAFA Remembrance Day, October, 12,&13, 2018.
It is with your support and dedication that Sankofa is able to fulfill its mission tasks.
See attachment with full details, thanks to Wyoming Tribune Eagle
Many, Many, Thanks,
Jp, Sankofa Chair, and Board Committee Members
CLICK HERE TO VIEW:
The Three Major Sankofa Community Projects:
It is with committed intentions to make this page as exciting and as provocative as possible because the three yearly events listed within contain the crust of our works and including many of our goals and objectives.
The grand celebratory event is: The International Africa MAAFA Remembrance Day—MAAFA, a term used often to denote the (Scattering) as defined by Ani Marimba in her book YURUGU as the African Senegalese word equivalent to the Greek term, diaspora.
Parallelisms of Slavery in Afro-American and Afro-Cuban Cultures was the theme for the 2017 conference that began Saturday, and followed the pattern of all MAAFA conferences, beginning at 8:30 a.m.-11:50 a.m. and includes other routines: breakfast and a fellowship gathering, to draw attention to the solemnity portion of the MAAFA—the ritual dedication in remembrance of those who died either during the Atlantic Middle Passage, or by some other devious method, place or time during the 400 years of European-African Slave engagement. Since these victims were morally and spiritually connected within their own sacred beliefs, and were never given proper burial, the ancient African ceremony of pouring *LIBATION is held in their honor. This liturgy is conducted by persons who are properly trained and instructed to facilitate this indigenous oracle of a Divine Dispensation.
After completing the above, the remaining half-day allows for an autodidactic and soul immersion experience in American and African historicity from an intrinsic perspective. This is the informational occasion dealing with preselected themes of African/diasporic life delivered by sequential lecturers from papers previously selected on the merit of research. These power- point presentations address some new historical revelation relatively to either some untold incidents during European slavery; outstanding and special events by some unsung heroes and heroines or a newly revealed genocidal pogrom.
This conference analyzes from an Afrocentric perspective the continuous remnants and trends of slavery that remain to exist in America, Cuba and other Afro-Caribbean societies. Lecturer's references indicate how European and later American imperialism forced culture groups captured from West and Central Africa—who brought their distinct ethnological traditions and cultures with them—to be forced in the process of time to deny and abolish their distinct and indigenous group habits of collective mores, life styles, and traditional traits, because these offered group protection as well as assured, to some degree, the persevering of an African spirituality and a secular sanity.
International and national scholars explain how these parallelisms of slavery affect Caribbean and Afro-American life in the context of obtaining an education, continuity of ritualistic and culture folklore, job placement and employment, housing, health and longevity and most importantly, Afro-Caribbean and African-American subjections to social discriminatory practices that remain evident in all avenue of present society.
Humanities and Arts Scholars in the pipeline for the aforementioned: Greta Viddal, Ph.D, Zemurray Stone Postdoctoral Fellow, Stone Center for Latin American Studies, Tulane University: Haitian Religion and the Folkloric Imaginary in Socialist Cuba, Mary Ludwig, Laramie County Community College: American Imperialism in the Caribbean During the Spanish- American War of 1898, James W. Peebles, Ph.D. University of Madrid, Spain, African Diasporic Culture, Researcher, Lecturer, World Traveler and Polyglot: Establishing Cuban Cultural/ Education Exchange Programs.
To acknowledge the present interest in Cuba and Caribbean travels and communications, this event offered a master service to the total community, especially when considering the local demographics involved: African, European and Hispanic descendants. In short, it is a community adventure in American history with startling documentation: top-notch presenters, performing artists and film footage covering portions of past and modern day Cuba and Haiti: their diverse peoples, the archaic and failing industries, the growth or lack thereof of the economies and geopolitical advancements. The conference closed discussing in brief: the United States and the New Cuban Travel Initiatives.
The second community involvement activity occurs on the third weekend of February 13, 15, and 16, 2019: The Sixth Annual Black Studies Symposium: THE OTHER SIDE OF THE MOUNTAIN, A conference focusing on African-Americans climbing different paths and exploring other black American patriots and hidden episodes of African-American life, specifically in parts of the American West. Student papers are considered in this category.
NEW TO CHEYENNE: THE  AFRICAN-AMERICAN FILM FESTIVAL-February 13, 15, and 16, 2019 (Venues at several locations throughout the City). Watch local media for film scheduling. Films to consider for the 2019 film festival: La Amistad, The Great Debaters, The Piano Lesson, Within These Gates, produced by Oscar Micheaux, early African-American film producer. Also The Blood of Jesus or The Green Pastures, and, The Racheal Divide, a Tribeca Film Festival hit.
All Sankofa sponsored events with exception to some film airings during the Film Festival, are held at the Laramie County Community College in the Union Pacific Room for Institutes and Conferences, Cheyenne, Wyoming.
*LIBATION is a funeral ritual of an ancient African origin that can be dispensed anytime, anyplace or anywhere.
When pouring libation to an ancestor who rests in the Valley of the Dead, Damballah will witness your action and accept it as respect for the departed. Libation is to be performed although one is away from home.  What you do for the deceased will be done for you.
Libation to Africans is a sacred practice—a drink-offering to honor and please the spirits—and to show the cosmic connection to the sacred environ.
Contact Us
Purpose and Mission: Organized indisputably as an educational institute to promote and advocate to academia and to all citizenry, at local, state and International levels- the ardent desire to study and become informed in African Diaspora civilizations and how to share this enlightenment with others.
Donations Accepted
If you wished to donate a different amount click on the donation button below
Sankofa African Heritage, Inc. is proud to present our regular sponsors for:
The Annual International Africa MAAFA Remembrance Day
The SANKOFA Black Studies Lecture Symposium
The Africa- American Mini-Film Festival