SANKOFA AFRICAN HERITAGE and the LCCC HISTORY DEPARTMENT
PRESENT THE FIFTH ANNUAL BLACK STUDIES FORUM
AFRICAN AMERICAN BLACK FILM EXPOSITION
February 13, 15 & 16
1400 East College Drive
Center for Conferences & Institutes
All screenings and events are free and
Opened to the Community
Donations accepted and appreciated
For more information contact:
Jill Zarend 307.635.7094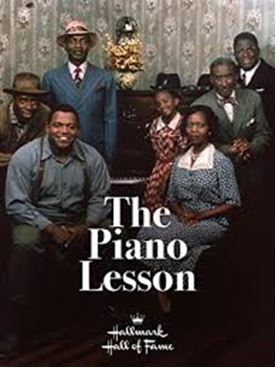 5:30 p.m.-Wednesday, February 13
GOLD CROWN COLLECTOR'S EDITION
THE PIANO LESSON, August Wilson's
…hits every note perfectly
To the family, it was more than a piano…it was their legacy and their future.
Boy Willie wants to buy a farm that his ancestors used to work as slaves, but first he must sell the family's most valuable possession –a beautiful carved piano that holds a unique place in their history. He tries everything to persuade his sister, Bernice to let it go, but she refuses. To her, the heirloom symbolizes what they have lost and their family's very heart and soul. Boy Willie sees it as the key to their future. Now the piano will draw their family into a timeless struggle that speaks to every generation—whether to cling to the traditions of the past or trade them in for the chance of a better future. Rated PG, 98 Min.
---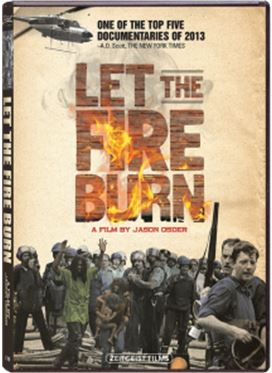 6:45 p.m.- Wednesday, February 13
ZEITGEIST FILM
One of the Top Five Documentaries of 2013—A. O. Scott, THE NEW YORK TIMES
LET THE FIRE BURN, A Film by Jason Osder
   "This masterpiece about an astonishing and forgotten moment in recent American history should be seen far and wide"—Filmmaker Magazine
In the astonishing gripping Let the Fire Burn, director Jason Osder had crafted the rarest of cinematic objects: a found-footage film that unfurls with the tension of a great thriller. On May 13, 1985, a longtime feud between the city of Philadelphia and controversial radical urban group MOVE came to a deadly climax. By order of local authorities, police dropped military-grade explosives onto a MOVE- occupied rowhouse that quickly escalated—and resulted in the tragic deaths of eleven people (including five children) and the destruction of 61 homes. Using only archival news coverage and interviews, first-time filmmaker Osder has brought life to one of the most tumultuous and largely forgotten clashes between government and citizens in modern American history. Not Rated, 95 min.
---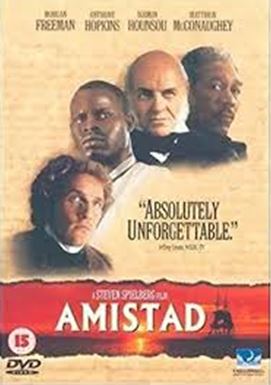 5:30 p.m.—Friday, February 15
AMISTAD, A Steven Spielberg Film "Absolutely Unforgettable", Jeffrey Lyons, WNBC-TV
   Amistad is the name of a slave ship traveling from Cuba to the U.S. in 1839 carrying a cargo of Africans who have been sold into slavery in Cuba, taken on board, and chained in the cargo hold of the ship. As the ship is crossing from Cuba to the U.S., Cinque, a tribal leader in Africa, leads a mutiny and takes over the ship. They continue to sail, hoping to find their way back to Africa. Instead, they are misdirected and reach the United States and imprisoned as runaway slaves. With hardly any knowledge of English, it seems like they are doomed to die for killing their captors. John Quincy Adams, an abolitionist lawyer, decides to take their case to the Supreme Court, arguing that they were free citizens of another country and not slaves and makes an impassioned and eloquent plea for their release. The case is a watershed moment for America-Spain relations, and reveals the political machinations as it holds repercussions on the North-South conflict eventually leading to America's Civil War."  PG, 2hrs, 35mins.
---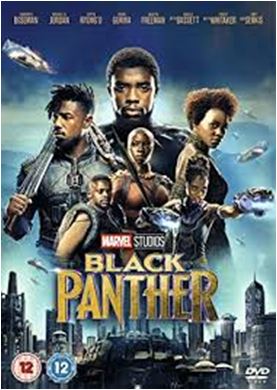 9:00 a.m.—Saturday, February 16
THE BLACK PANTHER of 1966 A MARVEL Comic Origin
 Since the Superman's 1938 debut, the dominant genre in American comics has been superheroes. Despite this fact, and despite the large proportion of black people in the U.S.A., there were for a long time no black superheroes. The history of Stan Lee and Jack Kirby's character The Black Panther mirrors the changing times.  Introduced in 1966 in the comic Fantastic Four, he was for a while the only one of the members of the superhero group The Avengers. The character eventually became an icon for the struggle against racism, sharing the name with the 60's activist party the Black Panthers. The Marvel Comic Industry took concern about the name issue and renamed the character "The Black Leopard" in the early 1970's, but this was short-lived. In1973, the superhero got his own series in the magazine Jungle Action under his original name and in 1977 got his own comic book.
BLACK PANTHER: One of the Best Superheroes Movies of the Century- Richard Roeper, Chicago Times
A Marvel blockbuster that became the third-highest-grossing movie ever in the U.S. and brought in $1.35 billion Worldwide.
Black Panther – Synopsis
Marvel Studios' 'Black Panther' follows T'Challa who, after the death of his father, the King of Wakanda, returns home to the isolated, technologically advanced African nation to succeed to the throne and take his rightful place as king. But when a powerful old enemy reappears, T'Challa's mettle as king—and Black Panther—is tested when he is drawn into a formidable conflict that puts the fate of Wakanda and the entire world at risk. Faced with treachery and danger, the young king must rally his allies and release the full power of Black Panther to defeat his foes and secure the safety of his people and their way of life.
---
Short-Shorts (If time allows)
The Darktown Revue, 1931, Directed by Oscar Micheaux

This film is one of the most outrageous Oscar Micheaux productions, a traditional minstrel-show of broad comedy and chorale interludes typical of any film defining African American stage performances of that era. 18 min
Two Knights of Vaudeville, 1915, is a low-budget production in slapstick style. 11min. Ebony Film Cooperation, Chicago
Well known among black theatergoers, these fun-makers received favorable notices in the black press, particularly the Chicago Defender.
Contact Us
Cheyenne, Wyoming 82001 307-635-7094

[email protected]
Purpose and Mission: Organized indisputably as an educational institute to promote and advocate to academia and to all citizenry, at local, state and International levels- the ardent desire to study and become informed in African Diaspora civilizations and how to share this enlightenment with others.
Donations Accepted
If you wished to donate a different amount click on the donation button below
Sankofa African Heritage, Inc. is proud to present our regular sponsors for:
The Annual International Africa MAAFA Remembrance Day
The SANKOFA Black Studies Lecture Symposium
The Africa- American Mini-Film Festival